What is Abstract Expressionism?
This is a style of painting that combines abstract form and expressionist emotional value. It started in the mid 1940's in New York but its influence comes much earlier from Surrealism and Cubism. It is often considered America's most important contribution to Modernism.
This was a post-World War II movement out of New York City. The movement is not solely characterized on the fact that all artists associated were abstract or expressionist. Rather, the movement had a number of styles. It can be said that it is an approach that involves complete freedom from all traditional aesthetic and social values and favors spontaneous, free personal expression.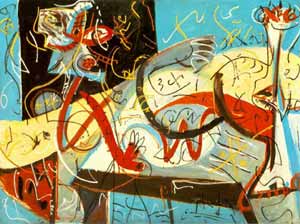 Jackson Pollack - Stenographic
There are three general approaches that can be distinguished within the movement. The first of which is made famous by Jackson Pollock, one of the most well-known of this movement. His work was large in scale, loud in color, and free-flowing. He is most closely linked with what is known as action painting. No drop of paint is an accident and loose, rapid sweeping brushstrokes make this style reminiscent of the Surrealists.
Abstract impressionism is another approach. Unlike action painting, works are less spontaneous. They are more manipulated towards a preconceived notion of an end result. Philip Guston is the most notable of this style.
The third approach uses well-defined abstract images or large scales of pure color. Robert Motherwell, Mark Rothko, and James Brooks are among the artists of this style of paint.
Among the other well-known artists associated with abstract expressionism are:
Lee Krasner (Pollock's wife) 1908-1984
Willem de Kooning 1904-1997
Mark Rothko 1903-1970
Adolph Gottlieb 1903-1974
Franz Kline 1910-1962
Philip Guston 1913-1980
Robert Motherwell 1915-1991
Arshile Gorky 1904-1948
Adolf Gottlieb 1903-1974
Barnett Newman 1905- 1970
---