Biography
Jackson Pollock: January 28, 1912 – August 11, 1956
Jackson Pollock was the first American abstract painter to be taken seriously in Europe. He was one of the most influential and controversial painters of the twentieth century. He was an alcoholic with a quick temper and quick fists. He once said: "The problem isn't painting; it's what to do when you aren't painting." Indeed, his problem was not painting!
Born to Stella McClure and LeRoy McCoy Pollock, Jackson Pollock was the fifth and youngest son. He was originally from Cody, Wyoming, but was raised in Arizona and California.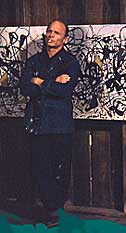 Ed Harris as Jackson Pollock from the 1999 motion picture "Pollack".
Jackson Pollock studied art in California (along with two of his five brothers) He took his studying very seriously and focused for a while on anatomical drawings. He later moved to New York where he worked for several years (1938-1943) for the Federal Arts Project. The FAP was the visual arts arm of the Great Depression Era's New Deal. Its primary goal was to employ out of work artists. These artists were hired primarily to create art for public spaces. FAP artists are reputed to have created more than 200,000 works of art from posters to murals, some of which stand as the most significant pieces of public art in the USA. Jackson Pollock was one of these artists.
Jackson was attending Manual Arts High School in Los Angeles when he was encouraged to pursue his interest in art. His oldest brother, Charles, went to New York to study with painter Thomas Hart Benton at the Art Students League. He suggested that Jackson join him and, in 1930, Pollock moved east and enrolled in Benton's class. He studied Old Master paintings and mural paintings. He also posed for his teacher's 1930 murals at the New School for Social Research. Also at work at this time was Mexican muralist José Clemente Orozco. He was also exposed to David Alfaro Siquieros. Their experimental techniques and large scale art had a lasting impact on Pollock.
Around this time, Pollock was invited to participate in a group exhibition. Here, is where he met his future wife Lee Krasner. His work also came to the attention of Peggy Guggenheim, the wealthy New York heiress whose money built the Guggenheim Museum. She became his dealer and patron, introducing his work to audiences. In November 1943, she gave him a solo exhibition and a contract guaranteeing him one-hundred fifty dollars a month for a year.
In 1945, Guggenheim lent Pollock the down payment on a small house in The Springs on East Hampton, Long Island. He married fellow artist Lee Krasner. They lived together on a small homestead in The Springs near East Hampton. It is possible to visit the Pollock-Krasner House and Studio Center. In the studio you are provided with special padded slippers and you can walk across the paint laden floor, the very spot where many of Jackson Pollock's masterpieces were created. He and his wife lived there till their deaths and their house is now the Pollock-Krasner House and Study Center.
Here he began creating his characteristic large scale artwork. His work was praised and dismissed at the same time. But he was gaining significant attention with a number of one-person exhibitions. While he was widely known in the New York art world, the rest of the world was introduced to him in August of 1949, when Life magazine did a piece on him.
In 1951, Pollock underwent a change in emphasis in his work. He gave up the use of color and instead created a series of black paintings on un-primed canvases.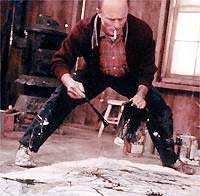 Ed Harris as Jackson Pollock from the movie "Pollack".
For the next five years after, he continued to struggle with his drinking and his art continued to undergo changes and he returned to using colors. In his last year, he did not paint at all.
Around this time, his marriage to Krasner was unstable. He had taken a mistress and Krasner took the opportunity to go to Europe to re-evaluate their relationship. Unfortunately, Krasner received a call informing her of her husband's sudden tragic death.
However, Jackson Pollock is best known for his Action Painting. Action painting (also sometimes called Gestural Abstraction) is a technique where paint is spontaneously splashed, dribbled or smeared onto the canvas as opposed to being carefully and mindfully applied with a paintbrush. This style was widespread in the 1950's and 1960's and is closely linked with Abstract Expressionism. The term "Action Painting" was coined by American art critic Harold Rosenberg in 1952. This style of painting focuses on art as a process rather than just a finished product. The act of creation itself is the point and not just the painting alone.
For more info on visiting the Pollock-Krasner House please phone (631) 324-4929
---