Jackson Pollock's Black Paintings
Jackson Pollock, a great American painter of the 20th century, established a distinct way of painting that produced a major impact on the world of art. In 1950, Jackson Pollock created his 'black paintings', unique and remarkable pieces of art that featured a combination of erratically-controlled painting and the use of the colour black.
The Pollock Style
Jackson Pollock was part of the Abstract Expressionism movement, a post-World War II art evolution which essentially put New York at the center of the Western art world. Painting in this style consisted of applying emphasis on spontaneous motion. Pollock was well accustomed to that approach as he had already adopted 'action' painting, a technique whereby colour is randomly splashed, smeared and dripped onto a canvas. Part of what made Pollock's style unique was his belief that the journey involved in creating art was just as important as the finished product.
Other renowned artists associated with Pollock's style, and who made an important impact on art were Willem de Kooning, Mark Rothko and Jean Paul Riopelle.
Pollock's Use of Black
Although Jackson Pollock's black paintings are sometimes referred to as 'black and white', works by other painters such as Kooning, Motherwell, and Kline better fit the 'black and white' tag. The primary colour in Pollock's paintings is black.
Pollock began his black paintings by pouring black Duco paint, which he thinned with turpentine, directly onto a blank canvas. The canvas was soft, unlike a primed canvas which is firm, so when the black paint was applied, it blurred (as when a photograph is enlarged and lines appear frayed).
According to his wife Lee Krasner Pollock, her husband's painting tools were sticks, basting syringes, and old brushes that had become stiff.
A Look at Jackson Pollock's Black Paintings
Pollock's most recognized black paintings are: Number 28, 1950, Number 31, known as One, Number 1, known as Lavender Mist, and Number 30, known as Autumn Rhythm.
Number 28, 1950 – Painted in the early summer of 1950, this enamel on canvas represents many layers of paint applied from all sides of the canvas, in the typical Pollock style. On the verso of the canvas, traces of black and yellow drawings can be detected. It was common of this art movement to start most paintings by drawing figures on the canvas, which were eventually obscured by paint.
Number 28 is currently located at the Metropolitan Museum of Art in New York.
Number 31 (One) - During the summer and autumn of 1950, Jackson Pollock completed three black paintings in quick sequence, Number 31 being the first of three. This oil and enamel on canvas shows off his mastery of the "drip" technique. What is unique about this painting is that there is no specific point of focus and there is no obvious pattern or repetition; nevertheless, the chaos is controlled. Some of the enamel is matte, and some glossy. The colours weave through one another, like a spider web's threads of blues and grays, cut with black and white. Although the layers of paint are thick, they still manage to create a delicate harmony.
Number 31 (One) is housed in New York's Museum of Modern Art.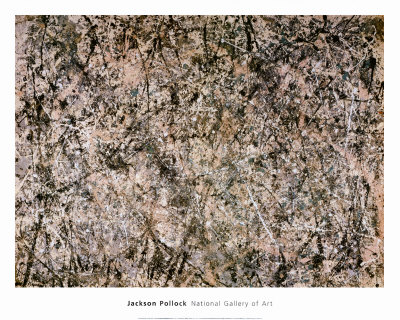 No. 1, Lavender Mist, 1950 Art Print
Number 1 (Lavender Mist) - This painting is a combination of oil, enamel, and aluminum on canvas. Pollock separated and marbled one enamel colour into another, and within these patterns, he introduced small strips of black on the light pink shade.
There are two interesting things about Number 1. The first is that the title, suggested by Pollock's friend Clement Greenberg, evokes the paintings strong atmospheric effect even though the colour lavender is not used whatsoever. The painting's hues are mostly white, blue, yellow, gray, pink, and of course, black. The second is that Pollock's hand prints can be detected in the paint.
Number 1 is located in the National Gallery of Art in Washington, DC.
Number 30 (Autumn Rhythm) – Painted in October of 1950, Pollock used enamel on canvas to create Number 30. He started by spreading a black line across the canvas, over which he drew white, brown and turquoise lines to create a contrast between light and dark, thin and thick, straight lines and curved lines.
Pollock had originally drawn human forms in the 3 sections of the painting but they were typically covered up by the layers of paint. The edges of the canvas are hardly touched with paint, creating a self-made frame that serves as a fence to contain the controlled madness of the colour.
Number 30 is housed in the Metropolitan Museum of Art in New York.
Jackson Pollock's black paintings redefined the standards of art. His innovative thinking awed and inspired artists who followed after him. See here for a list of places where to you can find Jackson Pollock's paintings.
Written by Don Nash: Don is a modern artist and content writer for www.jackson-pollock.com.
---