Jackson Pollock No. 5
Jackson Pollock painted much throughout his lifetime and his works are celebrated and criticized by many. While some believe that his technique was avant-garde and brilliant, others see his work as childish and lacking any real talent.
Nevertheless, there are art aficionados out there who can say that one of the first names that come to mind when discussing the abstract expressionist movement is that of Jackson Pollock. One of Pollock's famous drip paintings, No. 5 (1948), consists of brown and yellow paint drizzled over a piece of fibre board measuring 8' x 4'. Many claim the painting somewhat resembles a dense bird's nest.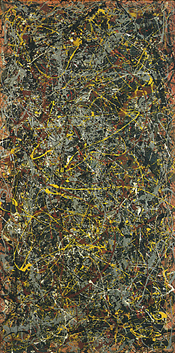 Jackson Pollock No. 5 has an impressive provenance, including Alfonso A. Ossorio, an avid collector of Pollock's works, and Samuel Irving Newhouse Jr., an esteemed publishing mogul. It was hung at the Museum of Modern Art before being sold into a private collection.
Sale of Jackson Pollock's No. 5
On November 2, 2006, The New York Times reported that the current owner David Geffen, founder of Geffen Records and co-founder of Dreamworks SKG had allegedly sold his Jackson Pollock No. 5. Supposedly, Geffen had sold two other works during that time, and it was rumoured that he was trying to increase his capital, aiming to bid for The Los Angeles Times.
The purported buyer of this remarkable art work was David Martinez, a Mexican financier who was a managing partner at Fintech Advisory Limited. The price tag on the painting was said to be an astonishing $140 million. Martinez was known to be acquiring a substantial modern art collection at the time. It was a piece that he certainly could have afforded as two years before the alleged sale, Martinez had purchased a Manhattan apartment on the 76th floor of the Time Warner building for a $54.7 million, a record price for a New York residential property.
Fact or Fiction?
The sale itself was supposedly brokered by Sotheby's auctioneer, Tobias Meyer, yet Martinez's law firm, Shearman & Sterling, soon announced that Martinez did not own the painting nor possess any rights to it.
The sale would have made No. 5 the most costly work ever sold, either in an auction or privately, surpassing the sale of Gustav Klimt's work titled Portrait of "Adele Bloch-Bauer I" by about five million dollars, which undoubtedly would have surprised the late Jackson Pollock.
No. 5 is still shrouded in mystery. The sale of the piece to Martinez has yet to be confirmed, and implication of the purchase is still refuted by statements made by Martinez's law firm. Moreover, Josh Baer, an auction expert, has also claimed that David Martinez is not the owner of the famous Jackson Pollock No. 5.